Naked: The rhythm and groove of it. The depth and length to it.
By Nastashia Minto
$13.00 paperback; $6.99 ebook.
Purchase at Bookshop.org.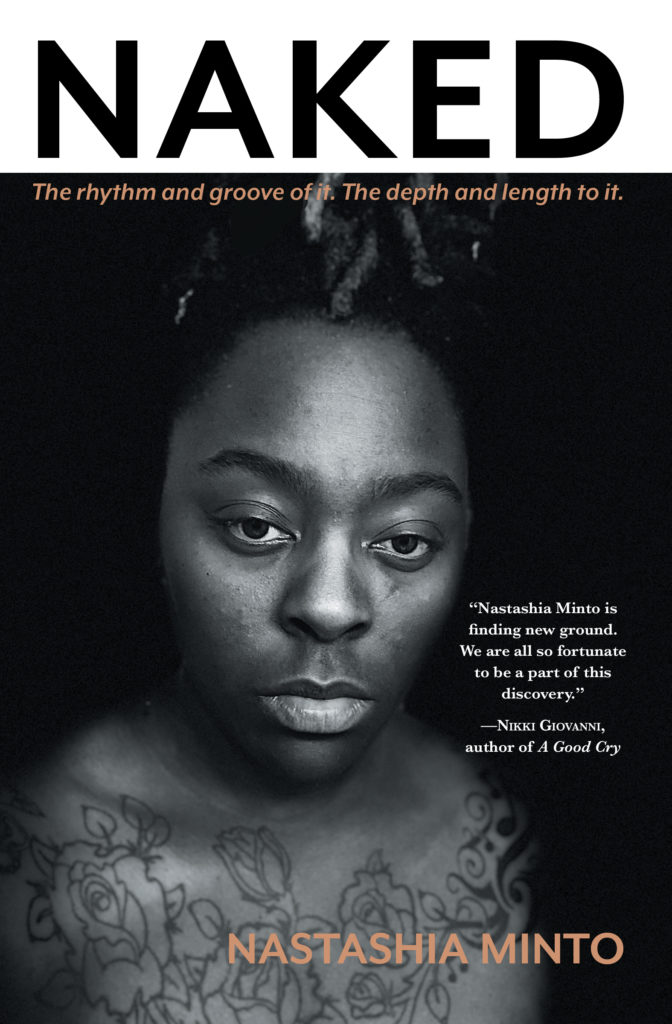 In this poetic memoir, Nastashia Minto strips herself of who she used to be and gives readers permission to see her naked. Exploring topics of family, faith, race, sexuality, abuse, love, and identity, Minto's words dig up rootbound emotions in need of better soil. This collection welcomes difficult conversations and allows space for unboxing uncertainties. By making herself transparent on the page, Minto inspires readers to become naked too.
---
About the Author
Nastashia Minto is an African American woman who was born in South Georgia and raised there by her grandparents. She grew up in poverty and around drugs, alcohol, and family violence. Her life experiences led her to obtain an associate's degree in occupational therapy and a bachelor's degree in psychology. She has been writing since she was nine years old and has found that her writing offers her another way to help people. Currently residing in Portland, Oregon, she has been a featured reader at many popular local reading series, including Unchaste Readers, Grief Rites, and Incite. Her writing has been published in SUSAN and in the Unchaste Anthology, volume III. Naked is her first book.
---
Praise for Naked: the rhythm and groove of it. The depth and length to it.
"What a joy to discover Naked: the rhythm and groove of it. The depth and length to it. It's always a unique pleasure to discover a new young writer taking on loving though difficult subjects. Nastashia Minto is finding new ground. We are all so fortunate to be a part of this discovery."
— Nikki Giovanni, author of A Good Cry: What We Learn from Tears and Laughter
"When a singular voice emerges, you can feel it in your whole body. Your bones ring like tuning forks, and your heart leaps a beat or two. That's the kind of voice rising from Nastashia Minto's book, Naked. This language is true to a body. Threading through sexuality, family, the crucible of religious upbringing, relationships, and a secular spirituality that will make you want to sing or bring you back to a table with other people, the poetry and storytelling ask you to open to the ways in which we are always shedding skins, always reinventing selves and songs. Carrying the rhythms and brutalities and beauty of the South, these lyric flashes will remind you how stories can loosen the knot of history so that a body may yet become. Language made naked so that we might yet see — and remember — all of our becomings."
— Lidia Yuknavitch, author of The Book of Joan and The Misfit's Manifesto
"Filled with candor and bravery, Nastashia Minto's Naked provides an intimate look into the genesis of a poet — from family triumphs to sexual trauma, from defeat to transcendence. Minto's nascent voice is filled with ardor for poetic form, both inherited and invented, and blends visceral narrative storytelling with a rhyme-master's heart. Whether the scene involves kitchen mornings with grandma, or a queer body staring down the barrel of a police gun, Naked reminds us of the word to redefine a life of action; "Don't be still — take / charge of your show."
— Shayla Lawson, author of I Think I'm Ready to See Frank Ocean.
"Nastashia Minto's debut poetry is naked, erotic mysticism and deep Georgia clay and Northwest rainforest reality. Written in a voice that wasn't supposed to survive and is, every day, in varying kinds of harm's way, this collection is black and gay and dreamscape. It's nightmarescape and moon. Minto is everything."
— Jenny Forrester, author of Narrow River, Wide Sky
"Nastashia Minto has written a book at once a love letter and a riot song. Her poetry brims with wisdom centuries deep, at times sage and bold, at times sly and sexy, and at all times loving and illuminating. She will transform your molecular design. How lucky we the world are to bear witness to her power."
— Reema Zaman, author of I Am Yours
"In Nastashia Minto's Naked, you will witness the transformation of a girl sitting 'quietly at the table eating [her] black-eye peas and cornbread with [her] grandma' to a woman who stands up to police brandishing guns at a black man to a woman in love with a woman's 'laugh which … sounds like small streams running beside [her] face.' And in her words, you will find your own naked truth."
— Kate Grey, author of Carry the Sky
"Minto seems to catwalk through this book bare and unashamed. The very foundation of acceptance of self, of others and being grateful for all is astonishingly sensed through each piece. Anyone going through a transition within their lives will find Minto's words supportive. I find the works within Naked to be heartbreaking, healing, and unabashedly honest. I look forward very much to rereading this and more by Nastashia Minto."
— Rebecca Smolen, author of Womanhood & Other Scars